Gutter Cleaning Chelmsford
Professional Gutter Cleaning Chelmsford
We at Essex Roof Cleaning take special care in investing our money to get the latest equipment for your gutter cleaning Chelmsford service. Our equipment allows us to provide the best services to our clients. The professionals take out all the moss, leaves, dirt, and other unwanted particles from the gutter. For best and reliable services of gutter cleaning in Chelmsford Essex, you can contact us. We have high-quality industrial vacuum cleaners fitted with carbon fibre options that can reach easily into the deep corners and remove all obstacles. Don't worry about gutter cleaning in Chelmsford Essex when you have the assistance of Essex Roof Cleaning Ltd.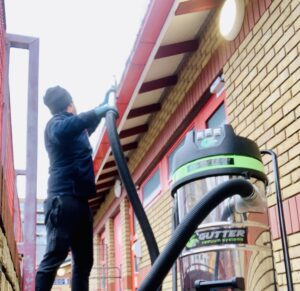 We have professional cleaners to provide assistance in gutter cleaning in Chelmsford Essex and are equipped to handle all the obstacles and problems that might come your way. We provide all-around customer satisfaction due to our utmost reliability and functionality in gutter cleaning in Chelmsford Essex.
Whether you have to clean the smaller plastic and domestic-style gutters or it is the concrete ones, we are always here to help you out. With the gutter cleaning in Essex, you can tackle issues in the metal industrial gutters as well. We firmly believe that where there is a will, there is a way. So, our services of gutter cleaning in Essex is simply the right option for you.
Not only do our professionals handle residential clients but they also provide the best services of gutter cleaning in Essex to some of the commercial clients as well, even though there might be a difference in their requirements.
No matter what your needs are regarding gutter cleaning we strive to achieve those in the best way. Our functions in gutter cleaning Chelmsford also include risk assessments, DBS Checks, and method statements as well.
Call right now to book an appointment with Essex Roof Cleaning Ltd.
We also provide gutter cleaning rayleigh and gutter cleaning south wooden ferrers
When Is the Best Time To Clean Your Gutters?
It is an important job, and one that many people forget to do. Floods and leakages can occur if your gutters are not functioning properly or blocked completely. It is recommended that you clean your gutters at least once per year. We recommend cleaning the gutters every six months in areas with many trees. Continue reading to learn the best gutter cleaning tips.
It is better to clean a gutter at the end or beginning of spring. It is better to clean a gutter that has been there for more than a year to prevent water from leaking. Falling leaves and twigs can quickly make gutters filthy, especially in autumn. Depending on your location, how often you need to clean is dependent upon where you live. A general cleaning should be done once per year. If you live near a lot of trees and birds, then it may be necessary to clean the gutters twice yearly. It may then be necessary to clean your gutters at least twice per year.
The gutters can become clogged with dirt throughout the year. Leaves, twigs, and other dirt are the most common culprits. There are several gutters on each house that collect rainwater and drain it to your roof. Rainwater that has accumulated can cause blockages or leaks if it is not properly drained. Water can remain on your roof and flow down to undesirable areas or leak through the roof. It is important to clean the gutters at least once per year if you wish to avoid this.